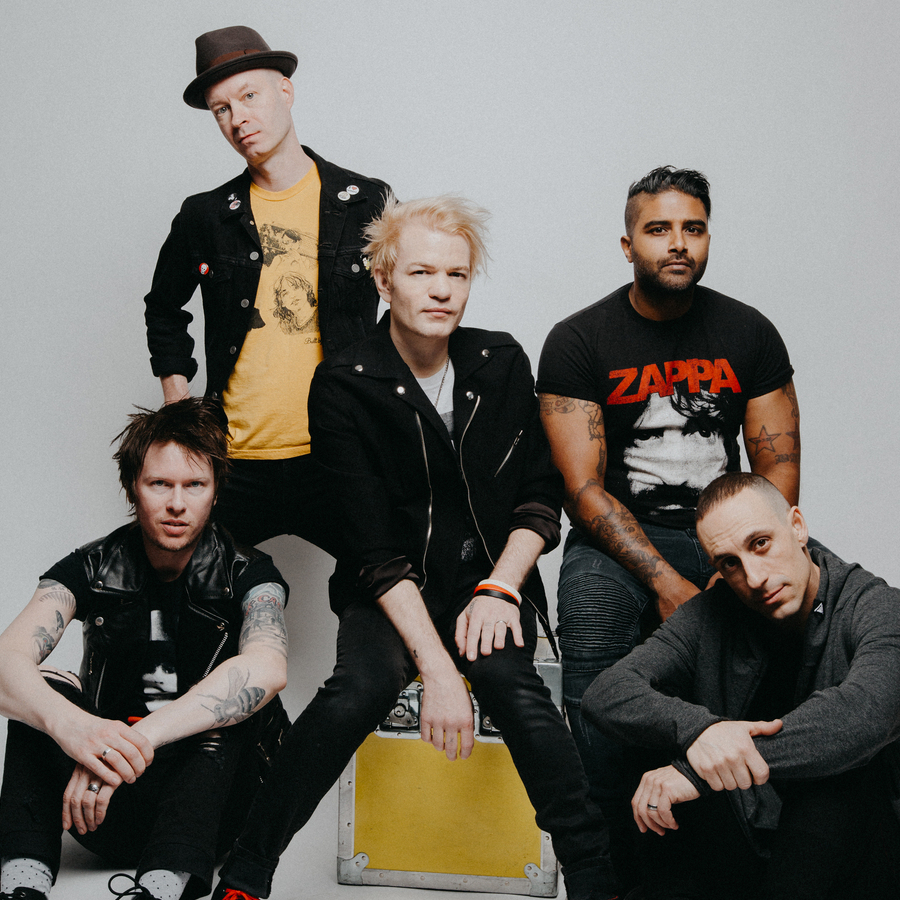 SUM 41
No personal space tour
10/08/2021 9:30 pm -
Majano - Area Concerti Festival
Sum 41 live at Majano Festival!
The international punk rock band will be on stage in Majano for the unique concert in the north of Italy of the new "No Personal Space Tour".
Sum 41
will play on
Friday 14th August
at
Majano Festival
. This is the second big announcement of the 60th edition of the traditional and successful festival, that every year brings in Majano (Udine) international musicians and bands.
In Majano Deryck Whibley and his band will play more than 25 songs, from the latest released till the famous hits, like "In Too Deep", "Pieces", "Fat Lip" and "Still Waiting".
Tickets are available online on
Ticketone
,
Eventim.si
,
Oeticket.com
and in every authorised point of sales.
Iscriviti all'evento Facebook
Scarica la locandina del concerto
Prices
Standing
€ 35,00 + d.p. € 5,25
€ 40,25
USEFUL INFORMATION FOR HANDICAPPED PEOPLE
According to our policy you can buy one ticket, which is valid for the handicapped person and the persons accompanying visitors with disabilities. If there were more than one partner, please write it in the message below. At the concerts and shows the sectors allocated to disabled people have a limited number of seats, according to security rules and building capacity.
In order to receive a seat in those specific areas, please fill out the following form:
Once we verify the place availability, we will send you a confirmation e-mail with all the specific information to pay and pick up the ticket.
Website with information for disabled people:www.disabili.com
The service is operative on Monday afternoon and on Thursday afternoon.
Wheelchair-free seating availability available
Wheelchair seating availability available
Contact us
Fill in the following form to contact us
Point of sales
| Ticket Point | Address | City | Province | Telephone number |
| --- | --- | --- | --- | --- |
| Tabaccheria n. 159 di Marco Capuzzo | Viale Garibaldi 49/B 30173 | Mestre | VE | 0415349486 |
| De Santi | Piazza Marconi, 1 | Castelfranco | TV | 0423492743 |
| Libreria Goldoni | Viale Repubblica, 154/E | Treviso | TV | 0422432752 |
| Mezzoforte | Via Pascoli, 11 | Treviso | TV | 0422540365 |
| Armonia Viaggi Srl | Corso del Sole, 208 | Bibione | VE | 0431430092 |
| Facile Ticket | Piazza Silvio Trentin 11, 31100 Treviso | Treviso | Treviso | 3735100179 |
| IAT Jesolo | Piazza Brescia, 13 - 30016 | Jesolo | VE | 0421 92288 |
| Tabacchi Lotto di Giuseppe Scarlata | Via Cividina 265 | Ceresetto di Martignacco | UD | +390432657028 |
| D&T Store | Via Noalese, 3/B | Zero Branco | TV | +390422 97125 |
| Foto al Mare | Via Bafile, 86 | Jesolo | VE | +390421380981 |
| Musicali Borgna | Via Biasutti, 49 | Casarsa Della Delizia | PN | +39043486026 |
| Tabaccheria Covassi | Via P.V. Ferrari, 6 | Udine | UD | +390432403197 |
| Bar Libertà | Viale Libertà, 67 | Pordenone | PN | +39043440058 |
| Magris P.G. & Figlio Snc | Piazza Italia, 53 | Maniago | PN | +39042771327 |
| Woodstock | Viale Isonzo, 88 | Portogruaro | VE | +3904211849166 |
| Tabacchi Jolly | Piazza S.Trentin, 16 | Treviso | TV | +390422544129 |
| Totoricevitoria Casa Fortuna | Via Baiardi, 5 c/c C.C. La Corte | Padova | PD | +390498647805 |
| Totoabano | Viale Delle Terme, 87 | Abano Terme Bagni | PD | +39049810665 |
| Last Minute Tour | Via Udine, 3 | Vigonza | PD | +39049629171 |
| ZOSO Music Shop | Gradnikove Brigade 37 | Nova Goriça | SLO | +386 5 333 4 889 |
| Abacus | Via Matteotti 36/B - presso il Centro Comm.le Serenissima | Sacile | PN | 0434 781221 |
| Ricevitoria Hotel da Gigi | Via Fosson, 26 | San Stino di Livenza | VE | +39 0421.310269 |
| Centro Della Musica | Via Piave, 71 | Codroipo | UD | +390432905635 |
| Consorzio Tarvisiano | Via Roma, 14 | Tarvisio | UD | +3904282392 |
| Vodafone Sostero | Viale Europa, 57 | Lignano Sabbiadoro | UD | 0431/721294 |
| Edicolè | Viale Tricesimo c/o Centro Commerciale Terminal Nord | Udine | UD | +39043244118 |